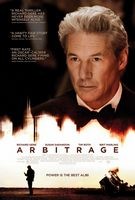 A person's drive to protect perception and others attempt to uncover reality are portrayed in a convincing and entertaining manner in Nicholas Jarecki's Arbitrage. As the Writer and Directer of his first feature film Jarecki tells the story of a highly noted and equally flawed business icon working every possible angle to cross the finish line one last time. Success for the business icon is not necessarily in the interest of everyone involved – including those he claims to be protecting.
Richard Gere (American Gigolo, An Officer and A Gentleman, Pretty Women) is the business icon on the verge of selling his Hedge Fund empire to a large banking concern. Gere as usual, is superb at playing the handsome, bright and highly flawed Richard Miller. Miller has a family-run business. His life includes a smart and striking daughter as Hedge Fund's Chief Financial Officer (Brit Marling), a Rock of Gibraltar spouse (Susan Sarandon), a Pouty mistress/artist (Laetitia Casta) and a bevy of aides and confidant's whom are paid to look the other way and make things happen. This all seems plausible given what we have learned through traditional, tabloid and internet journalism over the last decade.
What makes Arbitrage so successful is that the storyline flows smoothly – yet introduces all of the elements mentioned above (and then some) in a 107 minute feature. Although Gere as the Icon takes center stage for the bulk of the film, the supporting cast steps up and delivers on their mark when called. Sarandon looks and acts the part. England-er Tim Roth (Reservoir Dogs, Pulp Fiction, Rob Roy) plays a convincing NYPD Detective. I really liked Marling in her role. As a real-life graduate from Georgetown University with a degree in Economics she was believable as a finance oriented person. It should also be noted that Marling was the writer and producer of the Sundance Film Festival award winner Another Earth – a very fine work. Nate Parker (The Secret Life of Bees, Red Tails) is exceptionally good in a small but crucial role. Another surprise in Arbitrage is the short but very cleaver performance of Vanity Fair Editor Graydon Carter as the head of the Banking concern. He looked and acted the part with aplomb.